"We gladly support a leading project such as Blue Gate Antwerp. It is the ideal location for BlueChem, an incubator for sustainable chemistry where we help ground-breaking innovations to develop into successful businesses."
Frank Beckx
Managing Director Essenscia Vlaanderen and President of BlueChem plc
"For Antwerp University, Blue Gate is the perfect location to elaborate the ecosystem of sustainable chemistry. Our Blue App project constitutes the bridge between the industry and the university. At Blue Gate, we collaborate with our partners on the valorisation of the research in sustainable chemistry."
Prof. Silvia Lenaerts
Vicerector Valorisation & Development Sustainable Energy, Air and Water Technology, DuEL – Antwerp University
"Blue Gate will be the new standard in terms of effective use of space that continues to get more scarce. Innovative logistic buildings, a minimal impact on the environment and a maximisation of social values such as pleasant workplaces, smart distribution and the considerate usage and reuse of materials will be at the core of this project."
Jo De Wolf
Chief Executive Officer Montea
LET'S DO THIS TOGETHER
Invest in Blue Gate Antwerp
The total Blue Gate Antwerp project area covers 63 hectares. The site is to be developed as a "green lung" with businesses located in a smart way. Should your business be on the logistics site, on the periphery or in the core? We will be happy to explore the possibilities with you.
One lot consists of at least 5,000 m². Of course, it's up to you whether you want to share a lot with another company or buy a bigger one. Good to know: the building code prescribes spacious unpaved areas on each plot. This code helps you to realise your ecological ambitions. At the same time, it ensures the green character of the entire site.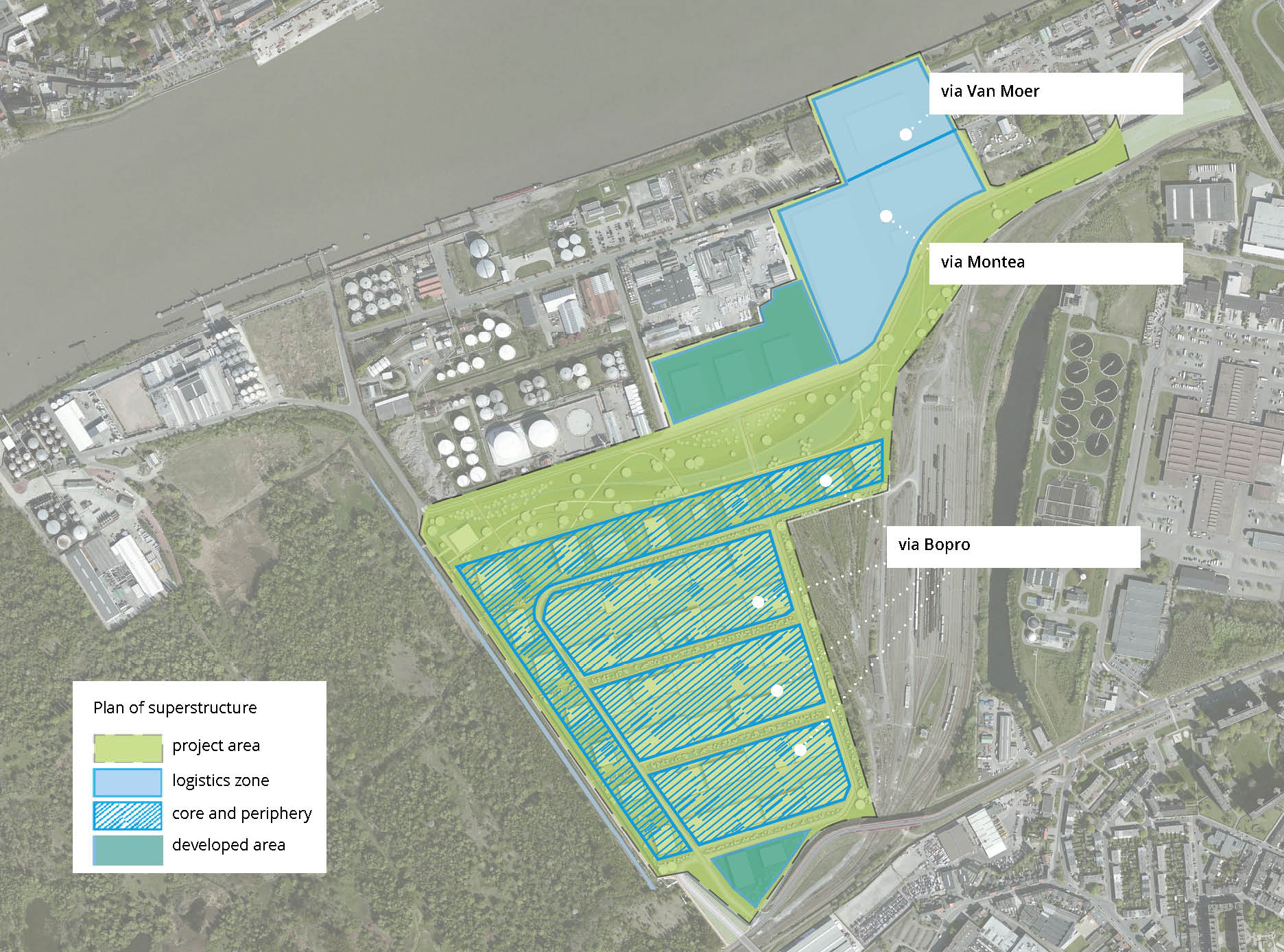 They are already into Blue Gate Antwerp!
BlueChem
BlueChem is an incubator for sustainable chemistry. With support from the authorities, the industry and knowledge centres, BlueChem is offering 3,375 m² of workspace to innovative projects and start-ups. The incubator also advises companies that want to launch a product or scale up a service.
Blue_App
Blue_App is an open innovation platform of the University of Antwerp. The hub connects academics and industry. It will, for example, collaborate closely with the BlueChem start-ups. Sustainable chemistry again is at the centre of attention, but is approached from a multidisciplinary angle.
Montea
Montea is an expert in logistics real estate. It invests in and develops warehouses and distribution centres. The company designed its own sustainability and social responsibility quality label. Eco-efficient construction and property management are part of Montea's DNA.
Van Moer
Van Moer is a logistics service provider with over 1,000 employees at 20 sites. The group offers storage, transport and distribution services. Throughout all of its activities, the core values integrity and responsibility are constantly monitored. Environment is unconditional taken into account.
How to jump on board
Your company belongs at Blue Gate Antwerp? Want to make sure not to miss the boat? That's the spirit! Get in touch with us as soon as possible. Together, we will take a closer look at the benefits the lots and our support have to offer. Also included: straightforward answers to any questions you might have Call +32 477 25 06 43 of mail innovate@bluegateantwerp.eu.